Gym London South
Martial Art Instruction in Mitcham
14 Menin Works
Bond Road.
Mitcham
Surrey
CR4 3HG
Landline: 020 864...
Phone: 07931 3...

Social pages
Search Tags
Opening Hours
Monday to Friday
9am - 10:30pm
Saturday
10am - 8:30pm
Sunday
12pm - 5:30pm
Open on public holidays
Similar nearby businesses
Units 39-41, South Croydon, CR2 0BS
338 London Road, Mitcham, CR4 3UD
1a Neptune Court, 1 Meopham Road, CR4 1BH
14 Menin Works, Mitcham, CR4 3HG
54 Tunstall Road, Croydon, CR0 6TU
Ashburton Community School, CR9 7AL
About us
About Us
The best thai boxing camp around south London, we have recently acquired the 3x European Thai boxing champion, from Vos gym to teach our beginners and current fighters, great atmosphere, friendly environment, many senior students to give on the spot recommendations, seeing is believing.
With over 20 years experience in teaching martial arts and developing fighters we are proud to present our brand new academy, Gym South London.
Our mission is to bring all of our knowledge and experience in the stand-up art of kickboxing and incorporate other, vitally important, fighting disciplines with fully qualified and recognised instructors.

At Gym South London we have brought together instructors from an array of backgrounds including: Kickboxing, Muay Thai, BJJ, no-gi grappling, Judo, Boxing and MMA. You could train in as many of the disciplines on offer as you prefer or focus on one – the choice is yours. Our role is to help you achieve what is best for your individual training needs and objectives.

As well as a detailed timetable that intends to meet the aims of all variety of members we have striven to provide a high standard of facilities within which you can develop your training.

This includes a full sized ring, extensive matted area, cardio equipment and an all-new callisthenics facility.

Our aim is to combine the flexibility for students and members of training at times convenient for them, (including training outside class times) with the reassurance of having instructors with years of training and competition in their disciplines, recognition from their peers, and an understanding of how to train in a safe environment.

We welcome you to Gym South London, and invite you to try the excitement and enjoyment of training in martial arts, in a relaxed and friendly environment
Boxing, Kick Boxing, K1, Thai Boxing, Ju-Jitsu, MMA, & Strentgh & Conditioning
Gym London South has a re launch of the gym, on 27th May 2013. The gym has recently acquired some high class coaches, teaching ABA boxing, Kick boxing, K1, Thai Boxing and MMA. After the introduction of new gym equipment our strength and conditioning Area is very impressive.
Recently we took our ABA boxing kids to a club in Luton and they done surprisingly well and have been invited to take part in an event coming up in June. All students have been putting in a lot of effort recently as we have a lot of show to compete on starting this Saturday the 20th April, Young Joe T will be fighting for a ISKA English title.

Gym London South's doors are open from 10.30 am till 10 pm, every week day, from 10 am till 6 pm for mixed use and till 8.30 pm for ladies only in the gym, The gym provides a professional service of strength and conditioning, Professional - Amateur Boxing, White Collar boxing, ABA boxing for the 11+.
Professional - Amateur Kick boxing, where you can train with national champions, male and female alike.
Professional Thai Boxing, we adopt the Dutch western style of Maui Thai, competing in all classes, from N to A Class.
Brazilian Ju-Jitsu / MMA classes twice a week with Russell who still competes too this day.

Gym London South is a Member of the Amateur Boxing Association of England (ABAE) and has been for a year, we are now allowed to hold ABA shows inviting local clubs and the associated clubs of our coaches, Ensuring any Student being trained can achieve recognized Boxing Accredited Certification, and box amongst Britain's greatest practioners.
Boxing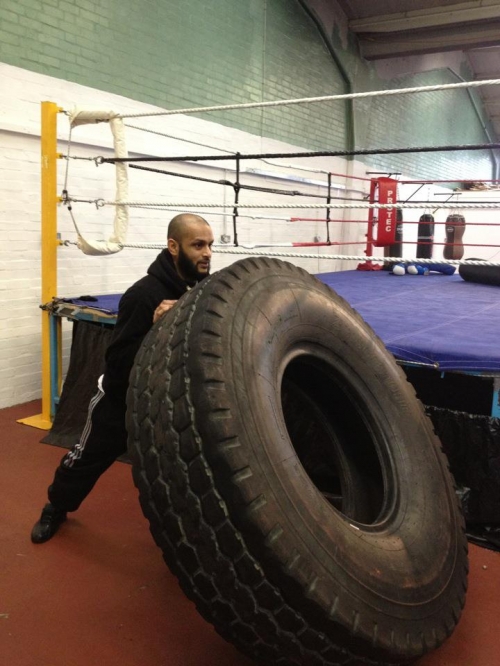 London's newest ABA boxing club 21 foot Olympic ring 10 brand new Lonsdale shock absorber punch bags Fully kitted out weights area Showers and sauna open from 9 am till 10 pm
Other Services
Free Parking
gallery
website
Payment Methods
Cash, Cheque, Standing Order, Postal Orders
Trading Since
5th October 1987
14 Menin works, Bond Road. Mitcham. CR4 3HG
Excellent in every aspect of the sport, a full understanding of what works, and whats not worth practicing, fitness is the key.
Micah newton - 18/12/2012
Want to display these reviews on your own site?
Leave your review of Gym London South
Customer Testimonial
The South London Club run by Winston Newton regularly and compete on our BIKMA/WKMA Martial Arts Association events. They have excellent fighters and always put up a good performance. Frank Bowen (President of BIKMA/WKMA). Useful Frank Bowen
Testimonial on behalf of Frank Bowen
Customer Testimonial
South London boxing club, is a excellent outlet for young people as, well as adults. It enables young people to release energy that builds up through lack of exercise, it also reduces the chances of obesity that is so prevalent in our youth today. Useful Jamal Abdur Rahman
Testimonial on behalf of Jamal Abdur Rahman
Testimonials are added by the business owner and are not independently verified.