Tana-B
Hairdressers (Unisex) in South Croydon
27 Limpsfield Road
Sanderstead
Croydon
CR2 9LA
Phone: 0208657...

Search Tags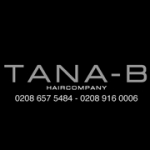 About us
Tana
Recently been nominated for 'Woman's Stylist of The Year 2012' in the English Hair Awards. Passionate about her work and loves the industry! Over 20 years experience has worked on stage presentations and had worked published in magazines. Regional L'oreal Colour Trophy finalist and previously worked in London's West End Claridges and Savoy Hotels. Regularly attends seminars to motivate her team and still enjoys attending cutting seminars and watching artists at work. Qualified in Balmain Hair Extentions. Truly dedicated to the salon experience and educating her team to fulfil the needs of their clients. 'A HAPPY TEAM LENDS TO HAPPY CLIENTS'
Services
Tana B Hair Company is the latest salon in the UK to be able to offer their clients the latest revolution in the world of hairdressing, KeraStraight. This ground breaking treatment is the latest evolution in Brazilian Keratin Straightening Treatments which have been grabbing headlines around the world.

KeraStraight originates from Brazil and works by straightening the hair via a Keratin treatment as opposed to chemicals. It leaves the hair in stunning condition and can be used on all hair types including highly bleached hair, which has never been possible before! KeraStraight will gradually fade out of the hair over 4 months to leave the hair as before, but can be redone more often if required.

KeraStraight works by fortifying the hair with Keratin & 22 karat gold. Keratin is a natural compound found in hair, skin and nails and this protein is what gives the hair its strength. The effectiveness of the nanoparticles of Keratin are fortified via the addition of 22 karat gold
More..
To begin the transformation of unruly, wavy or curly hair into sleek, beautifully soft & straightened, the hair is gently cleansed with a penetrating shampoo that opens the hair shaft. The hair is then completely dried before the KeraStraight Treatment is applied. Tana explained that this treatment doesn't need a development time, except for on virgin hair where letting it sink in for 20 minutes helps it to penetrate through the outer layers of the hair. 100% of the moisture is then dried from the hair, before the ironing process begins. Using a 230 degree ceramic straightening iron, each section is ironed over 10 times to seal the treatment into the hair. As this point the hair is very hot, so a special comb called an Easy Comb is used which helps Tana iron the hair direct from the root. Once all the hair has been ironed it needs to be left loose, product free and not shampooed for 2 days. The finished result is beautifully conditioned, healthy, shiny, straight hair.

To maximise the longevity of the treatment, KeraStraight have developed their 'Straight Maintain' shampoo & conditioner which are sodium chloride & Sulphate free. Sodium Chloride is in almost every other shampoo and would strip away the Keratin.

Tana added, 'We are delighted to be able to offer our clients this true evolution in straightening & repair, we have so many clients that overuse their straightening irons and they will be thrilled to be able to both repair the condition and have easy to manage, beautifully smooth, shiny hair.'

The KeraStraight treatment usually takes between 2 and 4 hours and Tana B Hair Company expect the demand to be high, so book early and start enjoying all those minutes and hours that you won't be spending fighting your hair.